Cristiano Ronaldo portrait shows appreciation for the soccer superstar. It is a unique eye-catching piece of art that can be hung up and admired.
Cristiano Ronaldo is one of the most popular soccer players in the world. He is an incredibly talented and successful player who has won numerous awards and accolades, including five Ballon d'Or awards. He also has a huge fan base that follows him everywhere and is incredibly passionate about him. His charitable work also helps to endear him to people all over the world. His athleticism, skill, and charisma have helped make him one of the most well-known and popular sports figures in the world. – Open A.I.
Creating a digital pop art work from Ronaldo's artwork is agreat way to show appreciation for the soccer superstar and his achievements. Pop art is an exclusive way to make a statement and it can be used to celebrate an icon's career, like CR7's. It will also be a unique, eye-catching piece of art that can be hung up and admired.
Pat on Cristiano Ronaldo's Portrait to start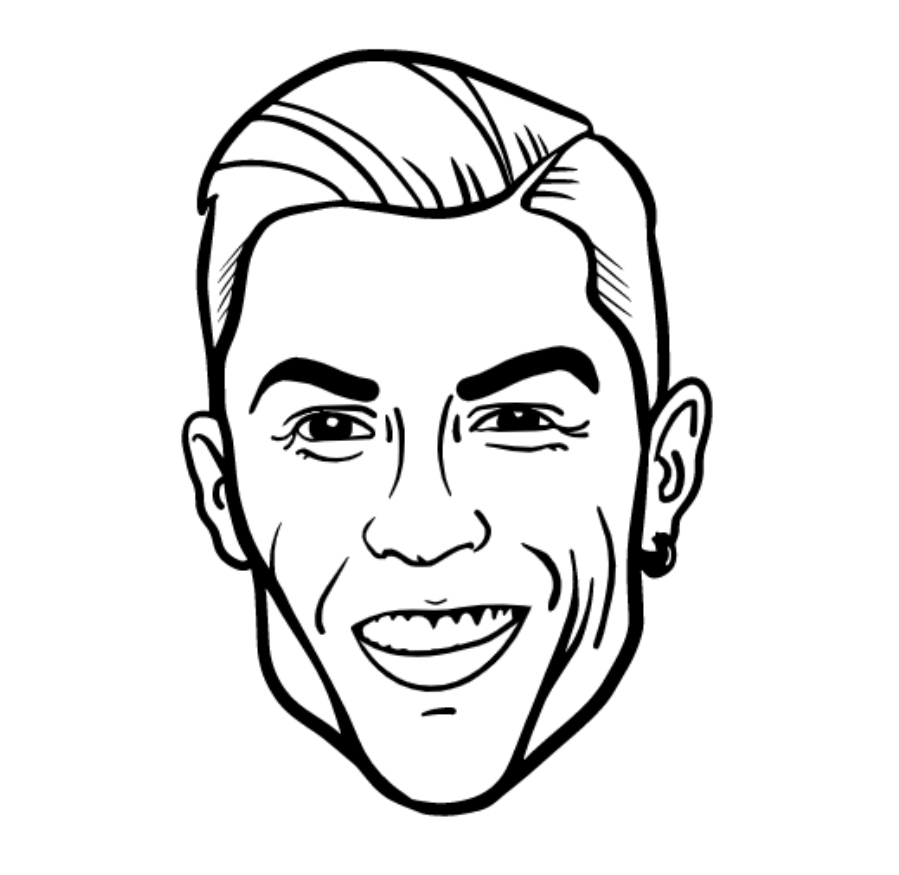 Go to Ronaldo's global art Gallery
Why should you be considering creating yourself one Cristiano
artwork
How to better show your appreciation for the soccer superstar and his achievements.
Cristiano Ronaldo is a very soccer world wide superstar or celebrity. Creating your own remote Pop Art design based on his black and white Ronaldo drawing portrait shows your appreciation for him and his achievements.
It should be a unique way to make a personal statement and to celebrate his career.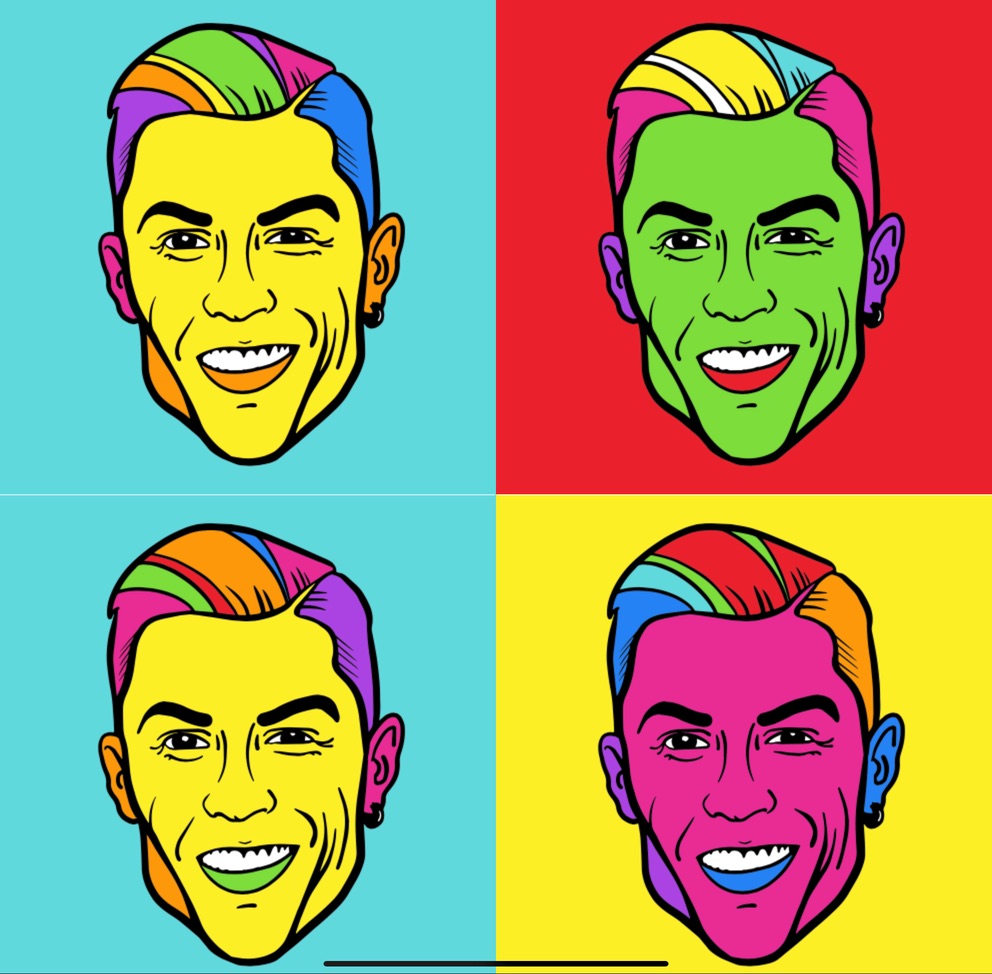 Appreciate your Pop Artwork
You can appreciate your artwork in a couple of minutes. Pop Art is a very easy drawing software. We created that solution to make it very confortable even on smartphone.
It makes it possible when your are traveling, walking,… You can even create an activity or remote creative activity remotely. That way you hung up a global or collective artwork.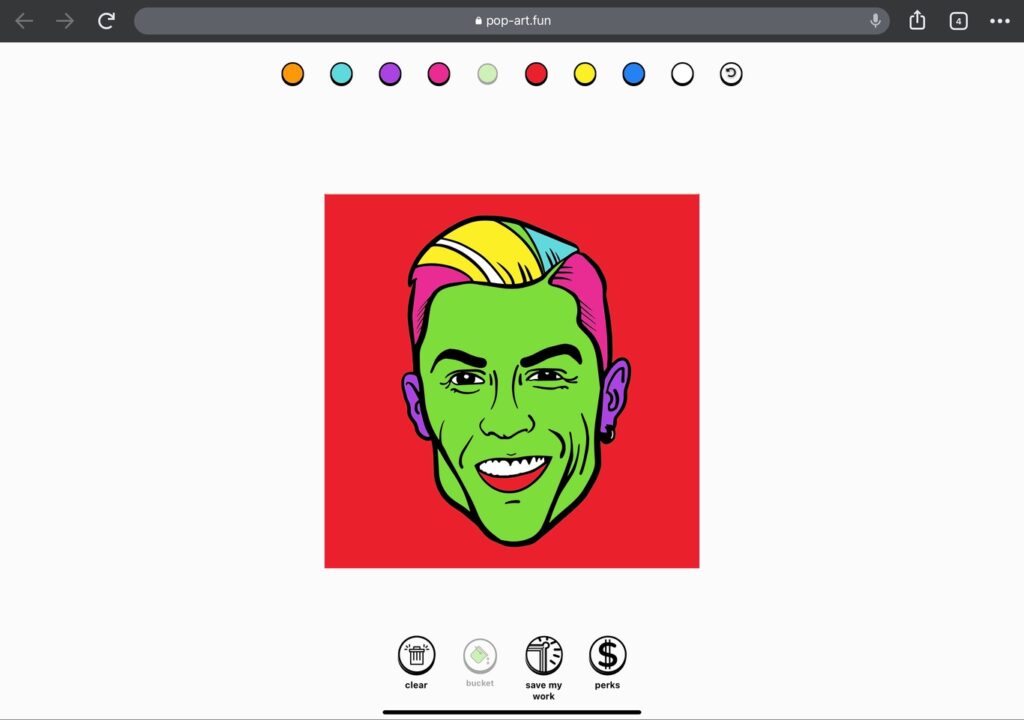 Share your feeling on socials differently
It is also a great picture you share on socials. It creates content people enjoy. And it makes you even so creative for followers.

Hung up and admire your personal customization
We finally can print it on canvas for you to be able to exhibit or even offer to someone that share you feeling as a friend, a child or a member of family.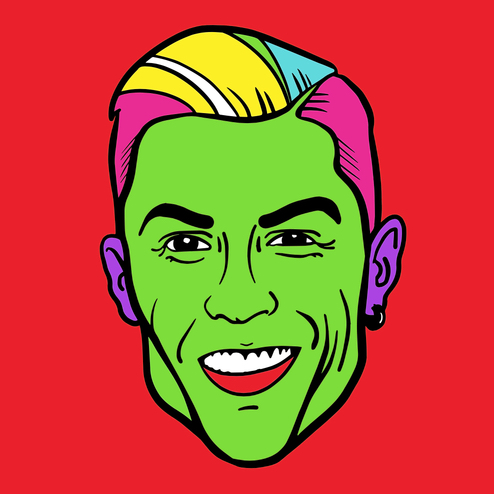 How a Cristiano's Portrait created as a pop artwork can do that for you?
Pop Art purpose is to create art by celebrating Popular and iconics images. It has to stay positive and fun.
Pop artists usually create colorful representation of a celebrity or an element that every body can figure out.
Cristiano Ronaldo portrait is now avalaible on Pop Art Fun in a black and white version. It allows you to create your own bold colors artwork. Our Pop art software make Ronaldo drawing easy to turn into a real piece of art.
Footballer portrait smile Cristiano Ronaldo
Pop Art Portrait of Cristiano Ronaldo is a black and white creation done by aNa artist.
She designs Black lines' artworks from elements and celebrities. So you can use it to color and create your own Pop Art digital canvas. This dedicated model is a Ronaldo drawing easy face you can experiment 3 times for Free.
Ronaldo drawing easy face
You can go for a totally FREE trial. You get 3 time experiences just by adding one e-mail address.
When your done with your Cristiano Ronaldo's portrait done, you can get FREE access to the global gallery with everybody's Ronaldo's Artwork.
Cristiano Ronaldo Portraits Stock
Using that free Trial also gives you the opportunity to be part of Cristiano's global gallery. Every world wide remote digital creation are dropped into that safe-drop space.
You can visite and share that gallery.
Your personal Program.
You can go for a personal plan.
In that case, you access a dedicated space and can hold your personal or corporate pop art activity.
A lot of people are wondering how old is Cristiano Ronaldo or how much is Ronaldo Worth? With a Pop Art Cristiano Ronaldo entertainment, it would stand for event. Your celebrity will never get older. And it will have no deal for your artwork because it is so personal.